Hotels In Rome & Practical Information For The Visitor
Make an informed choice in getting the best value from your visit to Rome
Cheap hotels Central Rome ?
The city of Rome is not a cheap area for accommodation, especially in the summer months when most leisure visitors want to come. However, within this context there are hotels available to suit most budgets at all times of the year somewhere in the city centre. Its just knowing where to look.
Hotels Around
Termini Station
The good news is that the most competitively priced central district for hotels in the centre of Rome is around Termini Station.
It is Termini Station that all the airport trains and buses terminate at, and where most trains from beyond Rome will deliver you to.
Termini Station is also the transport hub for getting about Rome. Rome's two metro lines intersect here plus the main local bus station is here too. Its also the start point for all of Rome's popular hop on, hop off sightseeing buses. In short from a logistical perspective, a hotel base around Termini Station is your best choice in terms of ease of access to the main sights and ease of arrival and departure from Rome.
As well as being the best location to get around Rome, there are more hotels round Termini Station than any other district. The Termini Station area is really a good benchmark to compare possible alternatives throughout the hotel market from cheap hostels to luxury hotels.
Bed and Breakfasts (B&B) in Rome
The best of the cheap Bed and Breakfasts (B&B) in Rome will have a knowledgeable host who will give you personal attention drawing on their years of living in Rome.
Bed and Breakfasts are widely available, especially around the Vatican City and Termini Station districts.
Most will be small family affairs with a few rooms. Some of the rooms are almost apartments. Breakfast itself will vary widely.
Bed and Breakfast Hotels In Rome - More Details
Rome Hotel Accommodation

Types Of Hotels

Rome Hotel Districts

Major Hotel Chains In Rome

Rome Hotel
Accommodation
Types Of Hotels
Hotel Disricts
Hotel Chains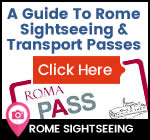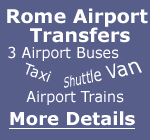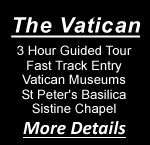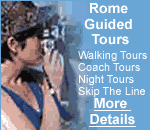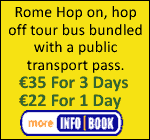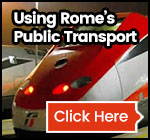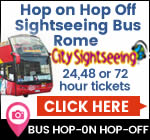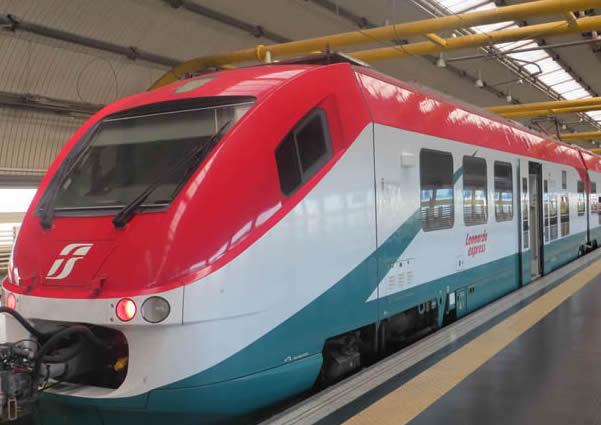 Leonardo Express Airport Train
Airport & Cruise Transfers
Rome has two airports, Fiumicino and Ciampino. Ciampino is used by the low cost budget carriers like Ryanair and some charters. Fiumicino handles the vast majority of flights.
Civitavecchia is the cruise port for Rome about an hours drive from the city itself.
We have detailed pages on all the viable transport options, both public transport and private vehicle from Rome's airports and cruise terminal.
We also cover inter airport transfers and airport to cruise terminal transfers avoiding the centre of Rome altogether.
Fiumicino Airport Transfers - More Details
Ciampino Airport Transfers - More Details
Civitavecchia Cruise Port Transfers - More Details
Rome
City Transport
Public Transport
Tourist Transport
Getting Around Rome - Public Transport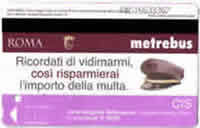 Rome Public Transport Pass
Rome is very easy to get around using its comprehensive but crowded public transport system.
The Rome Metro system is limited with just two lines but is handy for many of the main sightseeing locations including the Vatican. Rome's public buses form the foundation of many journeys.
Termini Station is the main hub for public transport in the centre. Both Metro lines cross here and out the front of the station is a large local bus station.
Very few people pay for individual journeys on Rome's public transport system.
The locals will have long term passes, visitors will save themselves a lot of hassle, time and money by purchasing one of the travel passes for 1, 3 or 7 days.
Hop On, Hop Off Sightseeing Buses
Buses have their first bus departing Termini at 08:30 or 09:00 with the last bus leaving at 18:00 or soon after finishing around 20:00.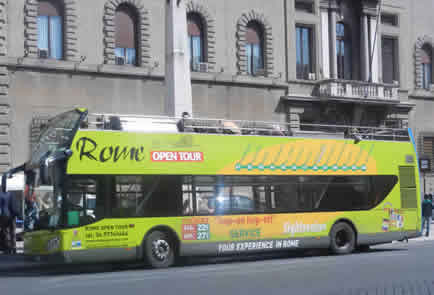 Open Tour
Rome Sightseeing Bus
In terms of numbers travelling, perhaps the most popular tour option are the double deck hop on, hop off tour buses now found in many locations world-wide.
There are a multitude of competing operators mainly offering refinements of the same product visiting all the main sightseeing locations in central Rome. The routes are almost identical but the differences in validities of the tickets, different promotional bundles and radically different pricing of childrens tickets makes it a complex choice.
There is also a hop on, hop off river boat and a separate hop on, off sightseeing bus that goes outside the city called Archeobus.
The major destination of Archeobus is the Appian Way (Via Appia Antica), which ran from Rome down to Brindisi.
The stretch close to Rome, the Via Appia Antica, is now part of an nature and archaeological park, the Parco Regionale dell'Appia Antica, and makes a lovely day out.
Comparing Rome's Hop On, Hop Off Buses - More Details
Roma Cristiana Tour Bus Plus Rome Public Transport Bundle (1 & 3 Day Tickets)
(The Vatican & Rome Card)
Save time and money!
Its a straight forward proposition, combine the Roma Cristiana hop on, hop off city sightseeing bus with a public transport pass covering all of Rome's metro, tram, suburban train and bus system in one convenient and money saving pass that covers all your transport requirements when visiting Rome.

Tours Of Rome, Walking Tours, Day Tours, Fast Track Tickets...
Popular Tours & Tickets In Rome
Vatican Tours & Fast Track Tickets
Vatican Museums Fast Track Tickets €38.00
Fast track admission to Vatican Museum
St Peter's Basilica & Cupola Fastrack plus guided tour €45.00
Small group tour incliding visit to Cupola
Vatican Museums + St Peter's (With VIP Access) From €61.00
guided walking tour with VIP Access
Vatican Museums + St Peter's (With Fast Track Access) From €35.00 (+€23.00 admissions)
guided walking tour with Fast Track Access
Vatican Museums Fast Track Access With Transfers €64.00
tour in English plus hotel pickups
The Vatican In 1 Day - Most Comprehensice Tour €97.50
Visiting Vatican Museums, St Peter's & Basilicas inc Saint John Lateran
Audience With The Pope €37.00
Attending Wednesday audience with transfers
Ancient Rome Walking Tours (Colosseum, Roman Forum, Pantheon, Trevi...)
Colosseum & Roman Forum €52.00 or €95.00 Special Access Tour
Daily half day walking tour. am and pm
Colosseum & Roman Forum (Segway Tour) €75.00
3 hour tour by Segway machine
Colosseum, Roman Forum, Pantheon,Trevi €30.00
3 hour walking tour. Morning or Afternoon
Spanish Steps, Pantheon,Trevi,Navona €39.00
3 hour afternoon walking tour
Villa Borghese Gallery
Villa Borghese Fast Track Tickets €30.00
Fast track admission ticket for a 2 hour slot
Villa Borghese & Gardens €48.00
2 hour tour of gallery + 1 hour gardens tour
Other Popular City Of Rome Tours
Dan Brown 'Angels & Demons' Tour €56.00
4 hr walking tour inspired by the Dan Brown novel
Best Of Rome Coach Tour €40.00/€96.00
Half or Full Day coach tour of main sights
Roman Gladiator Lesson From €55.00
2 hour lesson in becoming a Roman Gladiator
Night Tours Of Rome €30.00/€42.00
Choice - walking or coach tour of Rome by night
Private Car & Driver
4 hour customised Rome tour €210.00-€378.00
Price per Mercedes vehicle (1 to 8 passengers)
8 hour customised Rome tour €378.00-€567.00
Price per Mercedes vehicle (1 to 8 passengers)
---

---